Jonas, Wayne, Nicole and Kelly Maines in D.C. last year. Wayne, Jonas and Nicole were guests at President Obama's annual LGBT Pride reception.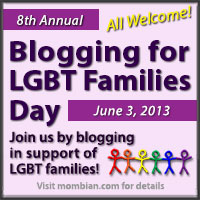 Editor's Note: June 3 is the
8th Annual Blogging for LGBT Families Day
, a tradition aimed at showing support for our families in the blogosphere brought to you by
Mombian.com
, one of our favorite LGBT parenting blogs. We hope you enjoy this post about a loving and courageous family with which GLAD has had the privilege to work.

If you think your family is being discriminated against based on a member's gender identity or sexual orientation, contact GLAD's Legal InfoLine for help.
When we think of LGBT families, we primarily think of those headed by LGBT parents.
But really, any family that includes an LGBT person is an LGBT family since so often, that person's experience as a member of our community impacts their entire family. When these families stand up and share their stories, they help educate the world about our community and serve as powerful examples about the importance of loving and supporting LGBT family members – particularly our youth.
I can't think of a better example than the family behind our case
Doe v. Clenchy
, which will be heard before Maine's highest court this month. GLAD is representing a transgender teen girl, identified in court records as "Susan Doe," whose elementary and middle schools removed her from the girls' restroom because she is transgender and forced her to use a staff-only restroom in isolation from her peers. Eventually, her parents were forced to withdraw their daughter and her twin brother from the Orono school system and move to another part of the state so they could attend school quietly and safely.
Susan's parents first stood up for their daughter's right to be treated the same as her non-transgender classmates way back in 2007, when pretty much no one was talking about transgender children and their needs.
It wasn't easy, especially when the story first hit their local papers – people pointed and whispered when they were out in the community; there were fewer invitations for the twins to attend sleepovers and other social events.
A few years later, with "Susan" and her brother settled in a new hometown and a more accepting school, the family took the courageous step of going public with their story and their real names, to help fight the stigma against trans youth. In a
moving story
by the
Boston Globe
's Bella English, Nicole Maines and her twin brother Jonas, and their parents Wayne and Kelly, talked frankly about their family's journey: the struggle to understand and incorporate into their family life Nicole's preference for all things feminine from her earliest years, Wayne's denial and difficulty accepting that he had a trans child, the decision for Nicole to transition and the ensuing pattern of discrimination both she and Jonas faced at school in Orono, and their activism on behalf of all families like theirs.
Wayne in particular has emerged as a powerful and inspiring advocate for his family. He speaks eloquently of his evolution from a fearful, disapproving parent to a Dad who is affirming and fiercely protective of both of his children, including testifying at the Maine State House as part of a successful effort two years ago to defeat legislation that would have rolled back non-discrimination protections for transgender Mainers.
About a thousand audience members laughed through their tears when he added, "Today, I am changed. Because when she says 'Dad, what do you think of this dress?' my comment is typically, 'It's too short, go change your clothes.'"
He regularly shares his insights about life as the parent of a transgender teen for the
Huffington Post
. It should be required reading for any parent struggling with the idea that their child is transgender.
It's impossible to overstate the positive effect that having an affirming, loving family has on a child who is LGB or T. Despite the stress of the lawsuit, the bullying she endured and starting over in a new town and a new school, Nicole, now a teenager, is thriving at school and enjoys many extracurricular activities like acting and activism. She has
spoken publicly about
how important Jonas' and her parents' support is to her.
Not surprisingly, research shows that LGBT children who have supportive homes have a much better chance to thrive and succeed as adults, while those that do not are at higher risk for suicidal behavior, substance abuse, poor school performance and other negative behaviors. The Family Acceptance Project at San Francisco State University, led by Caitlyn Ryan, has produced some
informative and eye-opening research
on this topic.
The Trans Youth Equality Foundation
, which provides education, advocacy and support for trans and gender-nonconforming youth and their families, is also a fantastic resources.
If you Live in New England and think your family is being discriminated against based on a member's gender identity or sexual orientation, you can call or email
GLAD's Legal InfoLine
for help. The InfoLine operates 1:30-4:30 pm, Monday - Friday. Staff are available to answer calls and email in both English and Spanish.
In short if you're struggling to accept a family member or friend who is LGBT, you're not alone. Thanks to dedicated organizations like these and LGBT families like Nicole's that are increasingly making their presence known in communities across the country, the journey forward is a little easier.